"If you think your teenager is more stressed, anxious, and depressed than you were back in your teen day, you're right. If you think that's because he's lazy and weak or she's self-centered and spoiled, you're wrong." – Dr. Michael J. Bradley, author of Crazy-Stressed: Saving Today's Overwhelmed Teens with Love, Laughter, and the Science of Resilience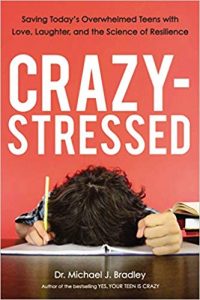 Teens today, amiright? It's a tale as old as time – by the time you have a teenager, it's hard to remember what it was like to be a teenager. And the fact is, for perhaps the first time in history, parents really can't relate to what today's teens are going through, even if you are a parent on the younger end of the age range. Technology has changed rapidly and with it so has our world and the world children live in.  Teens today are faced with stressors we didn't have growing up – like social media and the immediacy of text messages – and the stressors we did have, like peer pressure and drugs and sex. But the combination of those old and new elements is what makes their experience so vastly different than our own -- social media amplifies peer pressure and exploits the perception of what other teens are up to. Therefore, to understand them, we must first endeavor to understand their world. I promise you, it's not all doom and gloom and horror. You have raised resilient, curious, intelligent young people who are the future of our world. Together we will help them get from here to there.
Allow me to introduce myself. Hi, I'm Beth Scanlon, your Teen Services Specialist here at the East Lansing Public Library and I'm writing this blog for you – hard working, incredible parents – who have been up all night worrying because you can't get your teen to open up and don't know what's bothering them or who went to bed exhausted and confused after an epic fight or who just found marijuana in your teen's room and don't know how you're going to talk with them about it. True confession – I'm not a parent of a teenager, but I work with yours after school on weekdays and I have my pulse on the beat of the East Lansing teen scene. I don't have the secret decoder ring, but I do have the experience of working with and listening to your teens as they decompress after school each day and I hope that I can share what I learn as well as resources I come across, like the book I quoted, Crazy-stressed. I will pass whatever knowledge I can along to you in hopes that we all gain new understanding, empathy, and skills to help our teens (and ourselves!) cope with this tricky time in life.