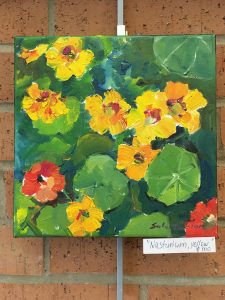 October's artist is Irina Salenko.  You can find her pieces on display all month long in the Brick Wall Gallery. 
Irina's artist statement:
My name is Irina Salenko.  I am an artist.  You can see my paintings on display here at the library.  I received classical European-style art education in my home town - Kiev, Ukraine.  My very first works and exhibitions were associated with fashion and embroidery.  Back in Ukraine I was painting occasionally, but after moving to the United States of America, painting has become a part of me.  My husband works in academia and due to the nature of his work we had a chance to live and experience different corners of the United States: Florida, Arizona, New York, Iowa, Indiana and now Michigan.  This has deeply affected me and my work: new places, new people, new ideas.  Now we live and work here, in the Lansing area, immersed in the wild natural beauty.
As our living environment was changing, my style has also been evolving.  While living in Arizona, I worked in a decorative manner.  After moving to New York, with its raw dynamism, I immediately jumped into realism, and over the last 3 years, through abstract art, I shaped the style in which I work now.  It has always been important for me to look for something of my own, natural, sincere, something that would correspond to my temperament, an active way of life, something expressive and vivid.  I work swiftly, widely, using large volumes of paint.  My color palette is very bright, I almost never use black and brown colors.
This exhibition represents several series of my works: landscapes and still life.  The landscapes - generic, whole - these are not the images of the places where you were, but rather those where you would like to be.  This is a fairy tale, of a kind.  On the opposite side of the spectrum - flowers - it is always an opportunity to immerse yourself in the beauty and colors of the world.  Especially now, as fall begins, I want to find a bright spot and warm myself in its rays.  I want to fill the viewer with warmth and hope, transfer him or her into the fantasy world and dreams.  The evolution of my style has been greatly influenced by abstraction.  Powerful, bright, evocative, transformed.  It attracts like a colorful spot, it rings and requires attention.  This is the art to decorate modern interiors.  Although I am amenable to the charm of this style, there is still objectivity in my works.  The objects are modified but still recognizable by the eye.
I continue to travel a lot, greedily gaining new impressions, knowledge and strength, so that when I am in the workshop I can pour it on white canvas.  I am trying to bring to this world a piece of myself or an idea, processed through my spectrum.
In my workshop I also teach painting.  I am happy to share my experiences with children, first of all, with my 7-year-old daughter.  For children under 10 we use watercolor paints and acrylics, as well as chalk, and for older children - oil paints.  Children of any age are welcome in my workshop!