Q: What's a list?
A: A list is a collection of titles related to a specific topic or idea of your choosing. Best Italian Cookbooks, 10 Books My Daughter Loves Best and Movies That Changed My Life are examples of lists you could create. A good list is a curated topic guide. A list shouldn't be just a group of titles by an author, since you can do that just by searching, or a list of titles you want to borrow, since you have a For Later shelf for that.  For this contest, your List will include the books, movies, audiobooks and more you enjoyed during 2018.
Q: Who can create lists?
A: Anyone with a library card can create a list when they're logged into their account. You don't have to be a library staff member.
Q: How do I create a list?
A: After logging into your account, click or touch your username located in the top right of the screen. A drop down menu will appear.  Click Lists on that menu to go to your My Lists page, and then click the Add New List button. Once you've created the list, you can add titles to it.  You can also get to your My Lists page from your My Library Dashboard page.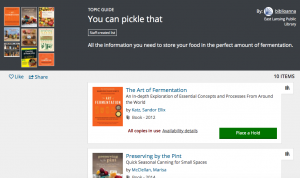 Q: Can other people see my lists?
A: Yes. Part of the fun of creating lists is to share your expertise with others. When you create a list, you can choose who gets to see your list. By default, lists are visible to everyone. You can change that when you publish your list. 
Q: Can I change the order of items on a list?
A: Yes. Each title you add to a list appears at the top. To move an item, use the up and down arrows next to the item to move it up or down one position. You can also drag and drop items up or down.
Q: Can I mix books and movies on a list?
A: Yes. A list can contain any combination of titles and formats. You can also add websites to a list.
Q: What if I want to add a title that ELPL does not own?
A: This is super easy!  Click Web URL above the search box while building your list.  You can then copy in a URL from MeLCat, Amazon, Goodreads, etc. for your title.  Then click the blue and white OK button and your title will be added to your list.
Q: What does it mean to annotate a list?
A: Annotations are brief notes attached to items on a list, and are only visible when viewing the list. Unlike comments, they do not appear on a title's details page. Annotations are especially useful to describe a Web page you've added to your list.
Q: Why can't I publish my list of 3 titles?
A: A list needs to have 4 titles before you can publish it. This is to encourage thoughtful and useful lists. The system will always save a draft of your list before it is published, even if the list contains fewer than 4 items.
Q: How can I see another member's lists?
A: Any time you see a comment on a title, you'll see the name of the user who wrote the comment. Click their name to see titles on their shelves. When you're viewing their shelves, you can see also see their lists by clicking the link near the top of the page.  Library staff will be showcasing everyone's Best of lists on elpl.org for the whole community to see, opens a new window.
Q: How do I save something from someone's list?
A: Click the icon to the right of a title on a list to save it to your For Later shelf.

Q: What's the difference between lists and shelves?
A: Shelves are a place to gather together all of the titles that you have read, watched or listened to (Completed), are currently borrowing (In Progress) or would like to borrow in the future (For Later). You can add as many items as you want, you can make all or some of them private, and you can filter a shelf using the categories in the left sidebar.

Lists are for more focused collection of items on a particular topic (for example, My Favorite Chicklit of 2017). Lists can also include links to Web pages. You can create as many lists as you want, but you are limited to adding 100 items per list. You can make the list public (viewable by others) or keep it private.
Q: What happens if the library discards an item I've put on a list?
A: Any item you add to a list remains there until you remove it, or delete the list, even if your library no longer owns the item.