During May enjoy the art of William (Bill) McCracken on display in the Brick Wall Gallery.
Artist's Statement:
Born in Wichita Kansas, and raised in Rolla, Missouri.  BS Degree in Chemical Engineering from the University of Missouri at Rolla.  Worked as a Chemical Engineer for four years for the E. I. DuPont de Nemours & Co. at Orange TX during the late 1960's.  Moved to Michigan in 1969,  and earned a MSE Degree in Water Resources Engineering at the University of Michigan.  Married Faye Barnard of Peterborough, Ontario in 1970.  We have three children and six grandchildren.
Worked for 32 years in Lansing for the Michigan DNR/DEQ in the water pollution control program.  Much of that time was spent managing the wastewater discharge permitting program.  Retired in 2002 and did part-time consulting work for about 10 years.  Now living in East Lansing.
Art education is very limited - one semester of art in high school, and a few adult education classes in Texas and Michigan.  Mostly a self-taught artist.  In fact, my artistic work was primarily initiated because I have always liked colorful art work on the walls of my house, but couldn't afford to buy the things I wanted.  So, I just decided to try to paint what I liked on my own.
I have never shown any of my art work before - so I hope you will enjoy it!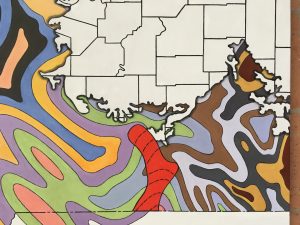 --Bill McCracken