This Month at the Library: Programs Galore!
Check out what's going on at the library in this month's newsletter.
Featured: 100 Ways to Help - Community Supplies Drive
As part of our summer reading program theme of "All Together Now," and in conjunction with celebrating ELPL's 100th birthday, this summer we're hosting supplies drives at the library to support organizations in our community! In June, we collected items for Haven House; thank you to everyone who donated!
This month, we're focusing on collecting cat food for the Constellation Cat Cafe. Drop off your donations in the collection bin near the teen room, and color in a cat on our tracking sheet for every item you donate! Our goal is to raise at least 100 items for each organization! To learn more and see what items we're asking for, visit our blog.
Featured: Paging Through the Past
We've started a new series called "Paging Through the Past," which explores the library's storied history, decade by decade! Watch the fifth episode below, which talks about the library's developments in the 1960s:
Featured: Summer Community Writing Center
The MSU Community Writing Center is back for the summer! Writing consultants will be here every Thursday night from 5-7pm, from June 1st - August 17th (closed on July 6th). Drop in any time for free writing assistance! No appointment is necessary, and they're able to help you with a variety of personal or professional writing projects.
Featured: Michigan Activity Pass
Looking for fun free or cheap activities this summer? The Michigan Activity Pass allows library users to use their library card for discounts, special deals, and sometimes free admission to attractions around the state! Explore the possibilities on their newly revamped website at miactivitypass.org.
Featured: July Programs
Check out what's happening this month at the library! For more information about these events and others, visit our events page.
Featured: Summer So Far in Photos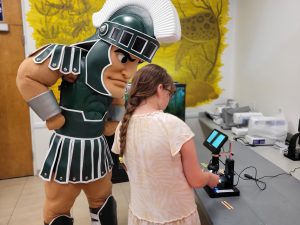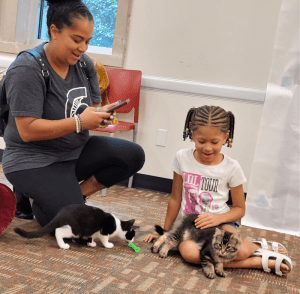 Featured: Farewells!
The ELPL administration is moving on to new adventures! Director Kristin Shelley is moving to Indiana to become the Executive Director at the Hussey-Mayfield Memorial Public Library located in Zionsville. Assistant Director Brice Bush is moving to northern Michigan to become the next Director of the Cheboygan Area Public Library. We wish them well in their new positions.
Up and Coming Dates:
Our summer reading program finale, Touch a Truck/National Night Out, will be

Tuesday, August 1, from 6-8pm. The library will close early at 5pm

to prepare.

The last day to turn in summer reading program tracking sheets is

Monday, August 7.
Catch ELPL Next Month:
Be on the lookout for more excitement in August! ELPL will be sharing featured reading lists, book displays, and programs throughout the month. Some of the library programs will include:
Trivia Night

Fun Run

Pebble Art

Back to School Bash

And more!
For more information, visit the library's website or follow ELPL on social media!