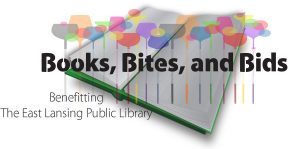 Join us for the 7th Annual Books, Bites and Bids Library Fundraiser on Friday, April 13, 2018.  To RSVP, visit https://elpl.bibliocommons.com/events/5a6791a4a420d83500e21096
The proceeds from this year's Books, Bites and Bids will support the remaining funds needed for the library to purchase a Mobile Pop-Up Library!  The Pop-Up Library will be brought to festivals, the East Lansing Farmer's Market, area schools and even senior communities.  The ELPL Pop-Up Library will be similar to the one from Grandview Heights Public Library. 
Making your donation for Books, Bites, and Bids is now easier than ever.  After registering hereopens a new window, click one of the buttons below to complete your donation with a credit card.