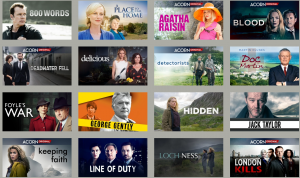 March 1, 2021 Update - To all our Acorn TV loving patrons -- After a brief interruption of service we are happy to say that access to Acorn TV has been restored.  You can continue to access Acorn TV through the RBDigital app and/or website.  Thank you for notifying us about your issues connecting to Acorn TV.
---
When you've worked your way through the entire collection of Masterpiece shows on PBS Passport, you now have another option for British tv offerings, thanks to your ELPL membership.
Acorn TV, an American subscription streaming service offering tv programming from the UK as well as Ireland, Canada, Australia, New Zealand, Scandinavia, Spain and Mexico, is now available through the RBdigital page, opens a new window or the RBdigital app. Just sign in weekly with your library card number.
For those of you who turn to the Brits for witty comedies, try:
- BAFTA-award-winning Detectorists, opens a new window
- Canadian Screen Award winner Slings and Arrows, opens a new window featuring Rachel McAdams and Luke Kirby
And for gritty procedural dramas or warm-hearted detectives you now have an even wider selection of choices:
- Deadwater Fell, opens a new window with David Tennant
- Queens of Mystery, opens a new window
- Keeping Faith, opens a new window
- And Then There Were None , opens a new windowwith Charles Dance and Miranda Richardson
to name just a few. Some of the old classics are also available:
Foyle's War,, opens a new window Vera,, opens a new window Midsomer Murders, opens a new window, and Doc Martin, opens a new window, all from the comfort of your own easy chair.
The Documentaries, opens a new window and Foreign Language, opens a new window choices look tempting, too. Let us know which are your favourites.