The East Lansing Public Library is a participant in A Community Thrives (ACT), a USA Today Network nation-wide program that is awarding $50,000 and $100,000 grants to local organizations.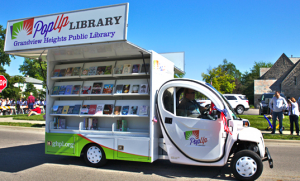 The ELPL and the Friends of the ELPL have joined up to submit a grant idea for a mobile, pop-up library, to bring the East Lansing Public Library's collection, staff and service to wherever it is needed.
You can help the library win by voting for ELPL as your favorite project.  Click here to vote today, and every day through May 12!