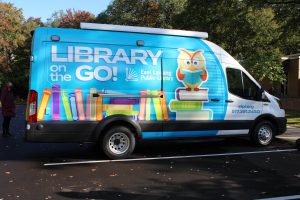 The library's long awaited Library On the Go has been delivered and is parked in the library's parking lot.  The Library On the Go is a smaller version of a traditional bookmobile, decked out with all the books, movies, and technology that library staff need to take the library out into the East Lansing community.  This new addition to the library footprint is the result of several years worth of donations from Books, Bites, and Bids, opens a new window, as well as a very generous donation from the RE Olds Foundation, opens a new window.
The Library On the Go can visit parks, retirement communities, festivals, the farmer's market and more.  
Thank you to everyone who gave generously to make the Library On the Go a reality!