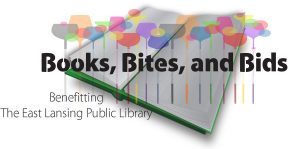 Celebrate National Library Week by attending Books, Bites, and Bids this Friday!
ELPL's 8th Annual Books, Bites, and Bids fundraiser is Friday, April 12, 2019 at the East Lansing Public Library from 5:30-9pm, with a short presentation at 6:45pm.  Enjoy a silent auction, delicious food, music and family fun. All of the proceeds will go towards developing an interactive educational children's garden which will include a rain garden, programming and a story walk.
RSVP on elpl.orgopens a new window
Suggested donations are $30 per person or $60 per couple/family. Donations can be made prior to the event at the library's Service Desk or by calling 517-351-2420 ext. 0. Donations are also accepted at the door. 
You can also make your donation onlineopens a new window. After registering by clicking the blue Register button at the top of the page, visit our online donation pageopens a new window to make your Books, Bites, and Bids donation online.