How does Summer Reading Bingo work?
Participate in ELPL's summer reading program by filling out BINGO cards to win amazing prizes!  Between June 11 and August 5, read and fill out your BINGO card.  Bring your completed card into the library or submit online below to get your prize.  Reading books, audiobooks, eBooks, eAudiobooks and magazines all count.
Where can I get a BINGO card?
Download and print your card or pick on up at the library.
How do I submit my completed BINGO card?
You can bring your completed card to the Service Desk at the library and exchange it for a prize and entry into the grand prize raffle.
Or, you can submit your card below by uploading it to the website.  Either a scanned copy of your card or a photo of your completed card are acceptable.  Prizes will still have to be collected at the library.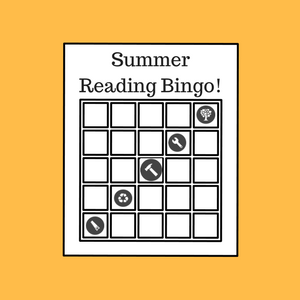 Can I fill out more than one BINGO card?
YES!!  This program goes all summer.  The more BINGO cards you complete the more entries you receive for the Grand Prizes!!!
What can I win?  And how can I win it?
Single line BINGO: Complete a horizontal, vertical or diagonal line to receive a coupon from a local business. Good for one entry into the grand prize raffle.
Blackout card: Complete all 25 squares to receive two coupons from a local business. Good for four entries into the grand prize raffle.
List of coupon options: Biggby, Bravo, Bruegger's Bagels, Curious/Archives Book Shop, East Lansing Aquatic Center, Espresso Royale, Friends of the East Lansing Public Library, Grand Traverse Pie Company, Maru and Tasty Twist.  *Coupons while supplies last*
Grand Prize Raffle prizes: Schuler Books and Music gift cards, iTunes gift cards, Amazon gift cards, and Kindle Fires. Names will be drawn on August 14 and winners will be notified starting August 15.
Here's the fine print folks:  we go by the honor system as far as completion of tasks on the BINGO card.